Marigold Bakes a Cake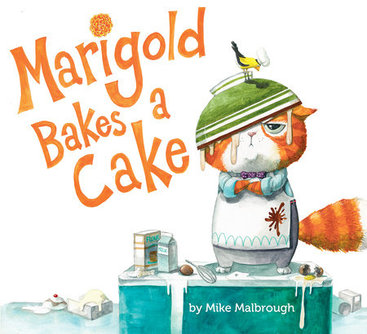 Written by Mike Malbrough
Illustrated by Mike Malbrough
For fans of Mo Willems' Don't Let the Pigeon… series. Baking the perfect cake is how Marigold spends Mondays. Being messy, noisy, and disruptive in Marigold's kitchen are how one finch, two pigeons, and three loons spend their Mondays!
Marigold the cat loves Mondays, for that is when he bakes cakes! With his favorite recipe in front of him, he rolls up his sleeves and gets down to it. He whips up egg whites . . . Easy. He adds a cup of milk . . . Peasy. Then he sprinkles in just a pinch of . . . of finch?! That's not right at all! Neither are the smidgeons of pigeons or the spoonsfull of loons. Clearly a chase is in order! Yet all that leads to is a spectacularly messy kitchen. And no cake.
With a recipe comprised of equal parts humor and charm, author-illustrator Mike Malbrough has cooked up a scrumptious laugh-out-loud addition to the great tradition of interruption books. Perfect for fans of Mo Willems' Don't Let the Pigeon Drive the Bus and David Ezra Stein's Interrupting Chicken.