Gabrielle Balkan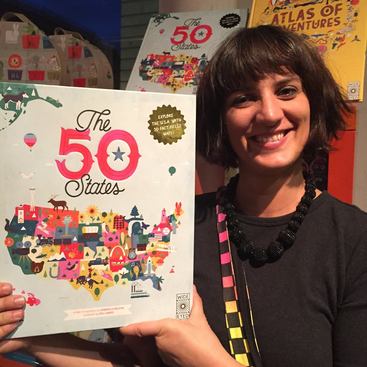 True or False: The world's largest animal could fit three motorcycles on its jaw.
Find out the answer to this and more with children's book author Gabrielle Balkan during an animal-themed interaction. Seek out Gabrielle to look at clues and guess which animals have the biggest, smallest, and spikiest bone…and which are the fastest, highest, and best backwards flyers. She'll also reveal secrets about the USA, like the best place to…see an albino alligator, the world's largest bottle of milk, and participate in a hot-dog eating contest. Then, you can show off your creativity and science smarts by working with Gabrielle to create an invented animal skeleton of your own.
Gabrielle Balkan is best known for non-fiction books that delight readers ages 5 - 12 with curious and essential facts about the United States and animal record-breakers. Her books include the The 50 States, 50 Cities, Book of Bones, and Book of Flight. She lives, works, and rides bikes in Brooklyn with her twin 3rd graders, two cats, a writer husband.
Find her online at: facebook: @gabriellebalkan, instagram: @gabriellebalkan, and https://www.gabriellebalkan.com.